Kate Middleton
In a truly moving and heartfelt gesture, Prince William proposed to the future Duchess of Cambridge, Kate Middleton, with his mother's 18-carat sapphire ring. The gem, originally worn by the late Princess Diana, features a halo of 14 diamonds and is set in 18-carat white gold. It is now considered one of the most famous heirloom engagement rings in history.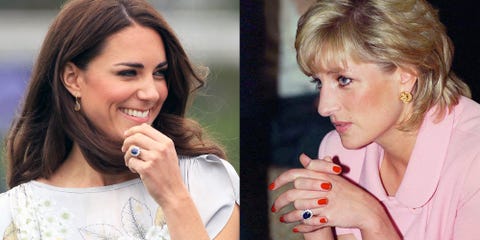 Empress Josephine
In 1795, Napoleon met his future bride, Josephine. Despite the fact that Napoleon did not have much money, he splurged and bought his love a gorgeous ring, which includes a gold band with a tear shaped sapphire and diamond in a setting called "You and Me," which was popular in the 18th century. The stones are only a carat apiece, but the historical value of the ring cannot be underestimated. The simple but sizzling stunner was auctioned off in France for close to a million dollars in 2013, purchased by an anonymous bidder.
Jessica Simpson
Singer and actress Jessica Simpson became engaged to Eric Johnson in 2010. Johnson went to jeweler Neil Lane, who helped him choose a romantic, 5-carat ring that includes an oversized ruby in the center embellished by two diamonds on either side. The gold ring is special to the couple because the ruby is Jessica's birthstone, and the ruby is the stone that symbolizes love. The custom ring includes smaller diamonds that encircle the band all the way around.